Features:

Heavy duty design

Stainless Steel / Mild steel construction

No "Forced" closure - will not damage lost parts or bucket

Ideal for use with deep kettles

The best solution with enclosures
Zinc & Mechanical Pneumatic Dross Grabs
Dross grab is fabricated in stabilized stainless steel where possible and sized to suit your galvanizing kettles dimensions. The two grab flaps are perforated with suitably sized holes to allow free molten zinc to run back into the bath. All parts submerged into the zinc will be fabricated with welding rods suitable for use with stainless steel in order to withstand the zinc erosion. We include for a single point lift only, and so do not allow for any steelwork i.e. arrest or hooks or unloading frame to retain the head fabrication whilst emptying the dross, but can quote for these if required. The grab is supplied in self-color, and will require minimal maintenance with periodic inspection of the bucket hinge pins for natural wear. Required minimum clearance height from top face of kettles to underside of four lifting hook for moving loaded dossing grab away from kettles is d+780 mm. It is completely produced by fabricate inside stabilized from metal. It is finished up with the large function plan, study manufacture stainless and steel. It is work that remote control containing operation, easy to handle, save production time. The two dross grab flaps are perforated with the proper size hole to permit free molten zinc to run back into the bath. The grab is supplied into the self color and will be require smallest maintenance with the periodic examination of the container center pins for natural wear.
Dross grab is the exactly engineered into the compliance with the international standards with the utilizing feature approved raw equipment and with the superior machinery. The dross grab is supplied in self color and it can be need some small continuance with the regular examination of the bucket center pins for accepted wear.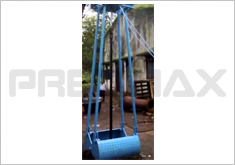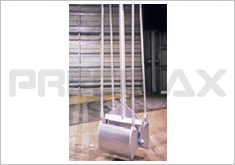 Note: It is not advisable to use the doss grab in a zinc temperature exceed 470* C.